We came into Zermatt the night before during the pitch black when it was snowing like mad, so we didn't see much. It is indescribable what it felt like to wake up right in the heart of the most glorious set of ragged snow packed mountains in the world.
Our first full day in the village mainly involved getting our bearings. The 220 volts of instant power, the pressure washer of a shower a we had, the screams of my brother from the bathroom as water flooded the floor.
As we ventured about, the first thing we noticed was the "road' that we kept missing the night before was actually a decent hike up the mountain covered in such deep snow we didn't recognize it as even a trail. The next thing we noticed was how fit every single person there was. We figured they'd have to be in order to get anywhere in that town. Almost all the restaurants had outdoor seating where the chairs were covered with blankets and fur.The water was crystal blue, and everything and everyone was very clean and neat.
...we were sitting quite literally in the middle of the storm of the century
It was still snowing, but we figured this is Switzerland and therefore it was normal. Later, we would find out that it was anything but, and we were sitting quite literally in the middle of the storm of the century. But without knowing what was ahead, we adventured, explored the shops, searched for the local spots, and enjoyed the uniqueness of this village. Even though cars aren't permitted in Zermatt, HUGE snow removal vehicles were working nonstop. Workers were constantly blasting snow into the river while homeowners shoveled the streets and their roofs. Every hour just about another foot of snow dumped down and keeping up seemed an almost impossible feat as groups of people continued shoveling relentlessly.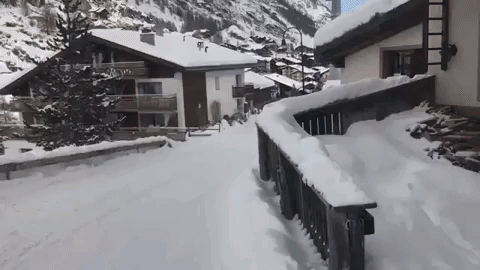 There were a few adjustments we had to learn, but they made us better. There is little waste there since the only way into this village was through train and helicopter. Our garbage bags were about half the size of a plastic grocery store bag. Everyone was extremely efficient, and almost everything was done at your own risk. While America is known to be the land of the free, nothing felt more free than this. Everyone was in lighthearted good spirits as they walked the streets drinking beers as the smell of Bratwurst being sold in between buildings filled the air. It was pure happiness.
We quickly decided to do as the locals do and drink on our hikes as every time we left the apartment it would be at least a two mile trek. With beers in hand, we navigated past people skiing through the streets, others passing us with their electric bicycles (the motorcycle of Zermatt), and kids getting towed on toboggans as gondolas passed right over our heads. Quite literally everyone had gigantic smiles and hardly anyone found entertainment from their phones. Just when you thought it was the most relaxed village around, we witnessed someone quite literally almost get run over by an electric taxi.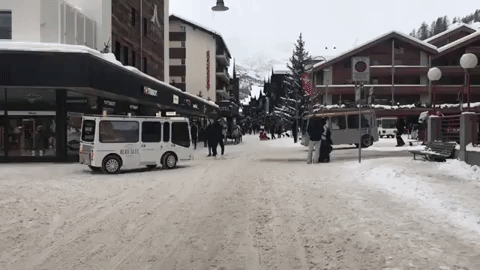 We hiked out a bit farther to go to the local's grocery store instead of the one conveniently located in the center of the village that was flooded with tourists. Things felt so much closer to nature and far less processed than back home. The eggs were left unwashed and full of feathers, chicken breasts were decently small without being pumped full of antibiotics and steroids, and there was hardly any processed or junk food.
We were standing in long line with a week's worth of groceries pretty relaxed as we waited for our turn. The one conveyor belt in the store was tiny and there were about 20 people in front of us, so we figured we had a while. We didn't. The cashier was going about 300mph and the locals were in sync. We weren't. We were up within minutes, completely unprepared and unknowing that you had to use your own bags. Our week's worth of groceries were checked through way too quickly as the cashier was already moving onto the next customer who's items started piling up next to ours. We bought as many bags as we thought we could carry and shoved everything in them as fast as we could. The line grew and we fumbled as we got everything out the door to plop down and rearrange. It's easy to forget that transportation there is on foot. We learned just a couple lessons as we hiked back up the mountain with a ridiculous looking one-trip load of groceries. What other visitors may call a major inconvenience, we considered an awesome way of life. It wasn't easy though, and by the end of our stay, our clothes were loose and neither of our snow pants fit as we both lost 10-15 pounds each. Every day was an adventure and preparing for it was definitely one in itself.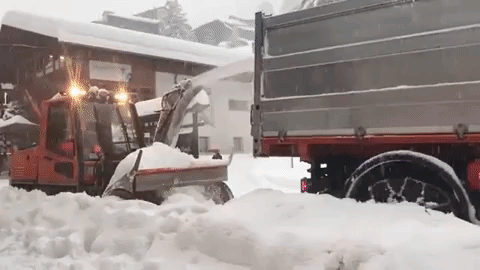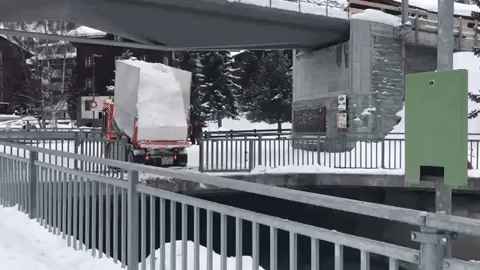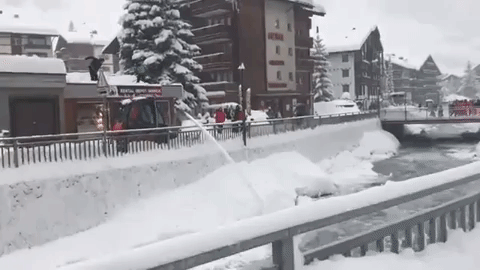 We gathered our boards and lift passes that would allow us to ski into Austria and Italy. The man who rented our boards immediately knew Joey was either "An American or Canadian" when he ordered a size 13 boot. Apparently all large-footed visitors came from North America. While we had the night scene scoped out, we called it a night as the next day would be a big one -- the first on the mountain. A day that would give us a big reality check as the storms continued to brew.